Topics in this article (click to jump to topic):
If you look at the Twitter hashtag #ACX_com these days you'll see a steady stream of people tweeting "I'm creating an audiobook on ACX #ACX_com." ACX, a platform owned by Audible, a subsidiary of Amazon, has the stated mission of recording all the books out there that haven't been recorded yet (they've done 6,000 in the past two years). Their website helps you (the rights holder) match up with narrators capable of producing a professional audiobook. It's fun and intriguing to think of your book coming to life in the voice of a talented narrator, isn't it?
My husband had written a historical thriller in 2010 that, with its fast pace and first-person voice, seemed like a perfect candidate for an audiobook. As his unpaid publisher/publicist for the book, when I heard about ACX last fall, I leaped in. If you've been through the process of publishing your own book (with all the technical and design work that entails) and then setting up a website and social media profiles to promote it, the streamlined ACX online process of auditioning suitable audiobook narrators, managing the contract, okaying the final product, and then making it available on Audible.com, iTunes, and Amazon is a piece of cake. (If you're wondering, our timeline was: found a narrator in November and had an approved product by March.)
I won't go into all the nitty gritty of how the process works—plenty of people are blogging about the steps, like here and here. I also won't go into the terms of the deal you make with ACX or the royalty-shares and sales info they help manage. For some, the terms will be unsatisfactory (including, in the usual Amazon fashion, the fact that the price of your audiobook can be lowered at any point without your say so, plus the new low-priced Whispersync wrinkle) and those people may decide to make and sell an audiobook on their own. For others reaping just a portion of the sale is well worth the price of getting help recording your book and having access to a prominent new platform on which to sell your story. We were happy to go the royalty-share route with our narrator.
What I do want to talk about is a subset of the evergreen topic "How do I find readers for my book?"—in this case, how do I find customers for my audiobook? Turns out to be a good question if you're not a best-selling author. Silly me, I had assumed that ACX and their retail partner Audible.com, as experts in the audiobook world, would offer specific sales tips for all the books they're turning into audiobooks. But, as they say, don't assume.
The main message on the ACX site is: "The more you sell, the more you earn. So get the word out." ACX's pointers on how to get the word out include telling you to start up a blog, do a Facebook Page, tweet, do public appearances, guest post about your book topic—all the well known ways of promoting any generic book these days. What author savvy enough to find their way to ACX doesn't already know about book publicity 101? But maybe there's still a few that need to be told to "ask colleagues to tweet about your book."
The larger issue, in our case, was that by the time ACX came on our radar last fall, our book was no longer brand new and we'd already told everyone following us ad nauseam about The Purples. They all knew about it and had read it or passed along the word to other potential readers. So when we started posting about the [$24] audiobook format for a book they'd already read, the yawn was deafening. Whether we have 20 followers or 2000 followers isn't the point—the point is that we needed to find a new audience. The audiobook audience.
Where to find the audiobook audience?
Once our audiobook production was approved by ACX, they very nicely listed it on iTunes and Audible.com, one of the best-known audiobook-specific sellers around. So my first stop to find an audience was Audible. This must be where the audiobook buyers are, I thought.
Well, the buyers may indeed be there, but they aren't going to ever know about my audiobook.
First, not that anyone would be searching for our unknown book by name, but if they did, they might be surprised to see that typing in its exact name brings up 12 other books ahead of it—none of which has that exact name, but rather shares one of the words. I guess those books got there first, but I don't know why an exact name search doesn't bring up the matching book on top.
But more importantly, once you locate the book, the biggest surprise is the underwhelming sales page for the book on Audible. ACX advises author activities such as social media and networking to promote a book, yet there is no way for an author to have a presence on Audible—no social media links, no bio, no link to author website or featured blog posts or tweets, no place for our book trailers, no place to highlight professional reviews, no obvious way to find or link to special-interest readers on Audible.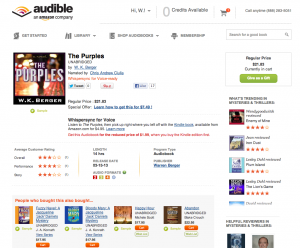 And since narrators are a big draw with audiobooks, why not have a bio/photo and link to the narrator's site, too? Finally, does Audible host a customer forum, where authors and narrators can interact with listeners? It's not apparent.
The Amazon connection
We thought since Audible was a subsidiary of Amazon, there would be more of a connection to the robust, established Amazon page for the book on the Audible page (note that the audiobook is nicely listed for sale on the Amazon page). The only connection we see to Amazon is much further down the Audible page below the fold—a listing of the two-dozen hard-won good reader reviews from Amazon, too far down the page to be useful for a customer who's not aware or looking for them.
Audible chooses to very prominently show their own customer rating area—which since the ACX audiobook is new has only one 3 star review (from some unnamed customer, with no written review that we could see explaining why only 3 stars).
Frankly, we don't get what customer would come back to this page to leave ratings here or how/why they are incentivized to do since there's no apparent social activity.
What does Audible.com do to promote unknown titles?
A little browsing reveals that Audible has its own recording studios, where they commission high-profile recordings by stars like Colin Firth and Kate Winslet, as well as creating their own well-produced recordings of classic, sci fi, and contemporary lit. Not surprisingly, these Audible Studios productions get their own showcase pages on Audible.com.
Audible also has a New Releases section which I assume includes the ACX books, but since each books is represented only by a small cover image and in order of recency, it's impossible to tell really. In order to see a book's description, genre, and ratings (which are usually zero stars for these new books) you have to hover your cursor over each cover. (I should note that in dropdown menus at the top, you can sort by genre, program type, and abridged.)
A nice way of looking at it is that the ACX books aren't inadvertently ghettoized on Audible—as self-published books often are. But since the "New" section includes more than 600 books that have come out just in the past four weeks displayed over 34 pages, obviously it has little utility for ACX authors trying to highlight and promote their books somehow there. (Our audiobook, out two months now, is nowhere to be seen.)
While clicking around the Audible site, I came across a great-sounding free promotional book that Audible created 2 years ago that would make an excellent companion to our novel—but there's no way to make that connection for the customers (no "If you liked this book, you may like…"), nor any way for us indie audiobook producers to approach Audible about creating a cross-promotion package.
There's a place for us… isn't there?
I kept clicking around the Audible.com site, certain there must be a place where they featured ACX books… and eventually, through some guesswork, I did find it under Shop Audiobooks—>More to Explore—>Popular Features—>Editors' Picks from ACX. I wonder if a member of the general public would click on that icon, not knowing what "ACX" stands for.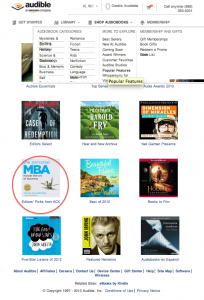 On "Editors' Picks from ACX" I found 6 featured books—a newly recorded classic from 1919, a memoir from Dr. Phil, a 1968 sci-fi classic narrated by humorist John Hodgman; more encouragingly, the remaining three seemed to be new books by unknown (to me) author/narrators. Another click reveals 6 more audiobook covers by unknowns, which is nice exposure for them, but there's no description given as to why these are Editors' Picks, no real prompt to buy them.
I also noticed in Popular Features that best-selling author and audio fan Neil Gaiman has his own section where he handpicks from the ACX roster. I think this is a great promotion for the selected books, but it's very limited. In the past 8 months, Gaiman had only picked two books, and they are both books that are also mentioned on the Editors' Picks page.
I'm not trying to fault Audible here—they have a lot going on on their site, lots to promote besides unknown ACX books—but rather am pointing out how daunting it would be for a regular, non-celebrity, non-series ACX book to gain any traction on this site.
Audiobooks and Goodreads
I'm a member of Goodreads, so I decided to explore there how authors and audiobook readers interact outside of Audible.com. A search revealed a handful of audiobook groups, including the biggest one, at 2,000 members, called "Audiobooks." It looks like these audiobook groups and discussions happen mainly around high-profile library rentals, which makes sense since audiobooks are expensive, and these people seem to be voracious listeners. There is no indication that ACX will distribute our self-produced audiobooks into libraries. That would be up to the individual publishers to accomplish, I would think, and that's typically a nonstarter for self-published books, which have little luck with already overwhelmed bookstores and libraries.
No way to do giveaways or contests?
It's no secret that readers are driven more and more by price these days, with a seeming race to the bottom. Hardcovers—>paperbacks—>ebooks. Where do audiobooks fall? They are priced in the $20s—a far cry from the impulse-buy universe of >$2.99 ebooks. [Of course, if you look at an Audible sales page you will see the audiobooks offered at an Audible discount price of $7.49 for 1 book/month (for a 3-month trial membership). The price then jumps to a still-good $14.95. The old book club model survives with Audible!]
But as any self-publisher knows, a big way to promote self-published ebooks and paperbacks is through discounts or giveaways, especially when promoting to book groups or on reader-centric sites like Goodreads. However, there is little way for an ACX author to do this kind of promotion. ACX books don't exist in CD format so there's no hard copy to give away, and there seems to be no way to arrange for a free audiobook giveaway via ACX or Audible.com (as there is with Amazon's Kindle Prime program). No coupon ability (à la Smashwords), no way to give out a secure download link. So, with the ACX website telling us to "send influential colleagues and reviewers a free copy of your audiobook," we're left wondering how to do so.* (*Note: after I wrote up this post, in a May 20 letter from ACX/Audible accompanying our second little royalty check, the last line does say "If you would like a few promotional copies to give away to fans or reviewers, please contact our customer services team at (888) 396-6347 or support@acx.com." So it does seem that they are now aware of this lack in their automated service—yet still no easy-to-use system for free copies on the website itself. )
Get on Audible's marketing radar
Back on the ACX blog, I saw a recent two-part blog post on ACX titled "How to Promote Your Titles and Get on Audible's Marketing Radar." A promising headline, but the article skips over how to find and grow an audiobook audience, going right to "When a particular book or series starts gaining a following we celebrate with baked goods and high fives. Then, we look to keep the momentum going by showcasing that book or series to Audible listeners through promotions like store features, customer e-mails, social media call-outs, sales or discounts, or other editorial events." It's the old "we'll promote you once you are already hot" Catch-22 of publishing. Understandable, from Audible's point of view, but not helpful for our purposes.
The most specific the blog post gets re: audiobook marketing is "Look into online publications, websites, blogs or podcasts that might be interested in your book's topic or genre, or audiobooks in general, and reach out to them and offer something of value: a review copy, an excerpt from the audio to post on their site, or, depending on the reach of the outlet, a copy of the audio to give away to readers." (See my note about "giveaway" copies above.)
Assuming ACX/Audible wants to sell books, and since we, the authors, are their sales force, why not give us a list of online publications, websites, blogs or podcasts that are open to publicizing audiobooks? The most specific mention of this kind I could find was buried in the last tip on ACX's basic "Get On Facebook" page: "Become a Facebook fan of Audible, AudioFile magazine, the Audiobook Community page, and other "hubs" of audiobook-related activity." Easy enough to become a fan of those three FB pages—where I can't really connect with buyers but can perhaps get promotional ideas from other publishers' promotional activities—but why not list the other advised "hubs"?
Are the narrators getting restless?
I have a feeling the inability of many rightsholders to market their new audiobooks may be becoming an issue at ACX, particularly as more books are getting produced and more royalty-share narrator/producers now spend many hours of time creating the professional recordings—with little backend revenue shares to show for it.
In a recent ACX blog post, these narrators are now advised, "As for royalty share projects, do your homework to see if the rights holder is an active marketer of his or her titles, and be prepared to supplement their promotional efforts with your own. … Check out the rights holder's social media accounts (like Twitter and Facebook), and note both the number of fans they have, as well as how often they engage them. Does the author have an up-to-date website? Does he or she have a blog they update regularly? The time your rights holder invests in their title will play a key role in how much you can expect to earn in royalties."
This is all good advice—our narrator didn't ask us about our marketing plan or if we had hundreds of 4-star reviews (sorry, no), and we didn't ask him if he was prepared to do his own promotional efforts for The Purples—but it still doesn't answer how "updating regularly" about the new audiobook format to a group of people that already know about the book would make for meaningful new sales.
What ACX replied to my feedback
Over time, I will probably spend many more hours exploring the world of audiobooks and hopefully find more places to talk about audio version of The Purples, because frankly it made a helluva audiobook and I hate to see the hard work of our ACX narrator (Chris Andrew Ciulla, a versatile L.A. actor) go to waste.
I guess I feel let down here because I understood that we were on our own when we self-published our book and ebook, and embraced all the fun and work that entailed. But when I realized that we had created a format for a whole other audience via a huge company like Audible/Amazon, but they offered no ready guidance in how to reach that audience, I was surprised and disappointed.
So I wrote a long feedback note to ACX similar to this article. In it I said: "The larger issue of how a new audiobook author is supposed to find listeners is a mystery without an answer. THIS is the kind of info we need you to provide on the ACX site, not telling well versed authors and publishers to sign up for Twitter or create a blog for their book. A listing of industry blogs or influentials who tout or review audiobooks would be at the very least what we need. I was looking hopefully at your Twitter feed, but the promotional tips and links you give there are quite generic, like '3 blogging tips for authors,' rather than specifically about finding audiobook customers."
I quickly received several nice replies from ACX thanking me for my feedback. But it was made clear that no help would be coming anytime soon from ACX or Audible. As they wrote: "The primary reason for ACX is to give authors a chance to create audiobooks as quickly as possible. The reason we can offer up to 90% royalty rates is because we expect the rights holders and producer to market the books themselves. If we were to be more involved in marketing, we would not be able to offer as high royalty rate." They closed by saying, "Your email was forwarded to management and the developers, as you did have some great ideas. However, we cannot offer a definite answer as to when the changes will occur, but please know that your voice was heard."
Even Seth Godin says it's hard to market audiobooks
As I researched this article I came across this cautionary quote from Seth Godin: "Audio books traditionally generate very little revenue to the author. She gets a royalty on a royalty on a small sales base. Not worth the time to promote." The good news is that ACX offers better royalties than traditional audiobook publishers, but the bad news is that it may indeed be true that audiobooks are not worth the time to promote, unless you have a great advantage for reaching these special buyers.
If you've read this far, you know that I am raising issues in this piece, not giving solutions; I wish had a killer list of to do's but must apologize because we are still groping through the dark. We suspect the early days of Createspace might have been much like these early days of ACX, and that there may soon be a robust ecosystem around how to market the ACX productions.
My hope is that this post won't merely elicit derisive comments about our marketing skills, laziness, or business naïveté, but rather some tips and anecdotes from other ACX rights holders and producers more creative or enterprising than we. (By Googling, I've seen a few prolific authors with big followings mention all the sales they're making via ACX/Audible, but haven't seen any specifics as to how they reached this new market.)
Believe me, I more than know there's no easy way to market a standalone novel by an unknown author. Whether self-published or traditionally published, it takes time, effort, money, and luck. And I greatly appreciate all that ACX did to make it possible to create our audiobook—including deeming our book stipend-eligible, which attracted narrator/producers to the title. We are not expecting them to also market the book, but assuming they want sales as much as the rightsholders do, isn't there a little more help they could give us ACX'ers to help us find our listeners? Maybe allow a simple link to our book's robust websites on each book's Audible.com page?
If you have some thoughts or pointers, please share….
{This article was written June 2013}