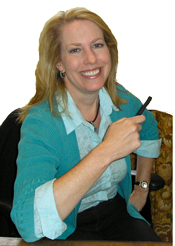 Welcome. I'm Laura E. Kelly, a former book and magazine editorial executive now specializing in helping authors and other creatives with their digital branding.
If you're a successful creative, my goal is to help you develop and maintain a well-rounded digital presence by taking full advantage of the many ways that you can now connect with your fans and build your audience. (Yes, I'm talking about that word "platform.")
I call myself "your complete e-Partner." What do I mean by that? See my
one-page overview about e-partnering or click on the FAQs below.
(Click to Expand all or Collapse all)
What's an e-partnership?
It's simple. You're a successful author, with one or more mainstream books to your credit. And you're trying to keep up with the challenge of establishing or maintaining an effective digital presence in today's ever-changing online space. I'm an editor/designer/new media expert who wants to help you by freeing up your time to write your next book. My job is to stay abreast of new media tools and audience expectations so you don't have to. Together, as a collaborative team—with you being the artist and me the digital manager—we can make sure you are your most productive self.
Why do I need an e-partnership?
The old model for an author publishing a book was:
1. Your new book is about to come out. 2. You hire a publicist (or depend on your publisher's) and go crazy for three months. 3. Then the frenzy is over. The publisher and bookstores move on. 4. You go back to researching and writing your next book.
That old model is dead. Now, for successful authors it doesn't end in three months. The dialogue with book buyers is ongoing, 24/7, 365 days a year—via Facebook, Twitter, LinkedIn, blogging, article writing, e-newsletters, book tours, and general care & feeding of your online audience and platform.
This is a mixed blessing, of course: you can really help market your book and connect with readers as never before. But it takes a lot of work.
Can't I just do it myself (with the help of my 22-year-old geeky nephew)?
It takes time and skill to find, nurture, manage, and service your online community. You need administrative and marketing ability. Not to mention ever-evolving tech and social media know-how. You could try to do this yourself, but you'd have little time left to write. You could look to your publisher and agent for help, but they're often busy with other clients and overwhelmed by their own digital demands. Even skilled publicists can't help long-term with all the hands-on aspects. You need a person who can pull it all together—identifying your particular goals and designing an overall new media strategy, and then staying on board to manage it. This is not a job for a techie fix-it person but someone with exceptional communication and community relations skills.
Why should I choose "Laura-e-Kelly" as my e-partner?
My middle initial
e
stands for a lot of things:
efficient, entrepreneurial, Elizabeth
… but perhaps most importantly
,
e
stands for something extra:
editor
. I'm married to words and books—both figuratively and literally (
click here for my bio
). I am a longtime book and magazine editor who edited the work of some of the world's top authors, so am sensitive to the unique and personal nature of what you produce. As a former editorial executive, I also understand the special challenges facing everyone in today's publishing food chain—from agents and publishers to publicists and retailers. However,
my
focus will be on
you
, the author (without whom the food chain doesn't exist),
ensuring that you have the support you need
as you're expected to shoulder an increasing portion of marketing and reader engagement. Like many editors, I'm organized, detail-oriented, and word savvy, yet I also have a design flair (key in our visual world) and proven digital expertise. Perhaps most important for a successful
e
-partnership, I speak and write in plain English not PR talk or techy jargon.
---
Also, check out on the site:
• My website design portfolio and other design initiatives such as Facebook landing pages and book trailers.
• Fresh info and links on the key author resources page.
• Sign up for email updates from the blog.
And get even more info by following me on: